Apple today updated its Maps app for Mac and iOS with new Flyover locations in number of cities and "Nearby" location listings in Australia, Canada, France, and Germany. Introduced in iOS 9, the Nearby feature displays restaurants and stores that are located close by. When searching in the Maps app, Nearby shows up as a list of categories like Food, Drinks, Shopping, and Fun.
Nearby was previously available in the United States and China, but today expands to Australia, Canada, France, and Germany for a total of six locations of availability.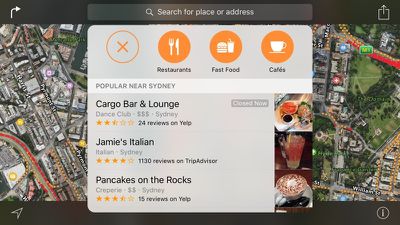 Apple has also added several new Flyover locations, highlighting landmarks and features in several countries in Europe, North America, and Asia. The new Flyover locations are listed below:
- Basel, Switzerland
- Bielefeld, Germany
- Gorge Du Verdon, France
- Hawaii (Big Island), US
- Hiroshima, Japan
- Kyoto, Japan
- Lassen Volcanic National Park, CA
- Leon, Spain
- Nagoya, Japan
- Okayama, Japan
- Osaka, Japan
- Porto, Portugal
- Prague, Czech Republic
- Sendai, Japan
- Tulum, Mexico
For those unfamiliar with the Flyover feature in Apple Maps, it lets users take photorealistic 3D tours of select areas, which can be navigated through to display close ups of notable landmarks and points of interest.
Flyover was first introduced alongside iOS 6 in 2012, and over the course of the last few years, Apple has been steadily adding new Flyover locations to the Maps app, with a full list available on its iOS 9 Feature website. As of February, some Flyover locations have also been updated with real-time animated landmarks, making the Flyover experience even more immersive, and many Flyover locations also have an additional City Tour feature that walks users through a series of landmarks in each city.