Apple Begins Animating Landmarks in Maps, Starting With London Eye and Big Ben's Clock
Apple yesterday updated its 3D "Flyover" map of London, adding animated images onto popular London-based attractions that result in real-time moving pictures right inside of the Maps app (via The Daily Mail).
The update causes the current time to be showcased on the face of Big Ben's clock tower, and the popular giant London Eye to constantly rotate when users find each structure in the London Flyover map. The feature, according to
The Daily Mail
, is expected to hit other big cities "within weeks."
Though a straightforward and purely aesthetic update, the addition of real-time animated effects in the Maps app brings a more immersive experience to Apple's mobile map service and could give it a slight edge on competing map apps.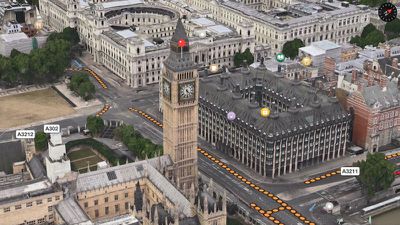 Thanks to hefty amount of criticism following the rocky launch of Maps, even resulting in a public letter of apology by Tim Cook, Apple has been steadily attempting to straighten the app's course and win back the users that migrated to services like Google Maps in the intervening years.
Apple has steadily improved the accuracy of its maps, increased the number of points of interest displayed, and improved the quality of its Flyover imagery, while also reportedly working to add new features such as transit directions and indoor mapping information. Apple-leased minivans with equipment rigs on top have also been seen in a number of U.S. cities in recent months, suggesting the company may be collecting street-level imagery to compete with Google's Street View.