An In-Depth Look at Storage and App Thinning on the New Apple TV
Ahead of the release of the new fourth-generation Apple TV, Polygon has taken an in-depth look at the device, giving an explanation on how storage is used. Apple offers the Apple TV in 32 and 64GB storage configurations, but initial app downloads are restricted to 200MB, which has led to some confusion about how the storage works and what it's used for on the device.
Though apps on the device are limited to 200MB of storage space when downloaded, on-demand resources, part of iOS 9's App Thinning feature designed to reduce app size, allow tvOS apps to download and delete content whenever needed, such as levels that are already played or levels that have yet to be played. Developers can store 20GB of on-demand resources for apps in iCloud.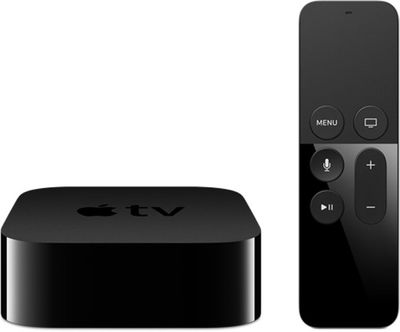 With app sizes limited to 200MB on the surface, it might seem like more than 32GB of storage is unnecessary, but apps can actually download up to 2GB of resources immediately after installation. Apple TV users who plan to play a lot of games or use a lot of resource-heavy apps could potentially find themselves using a large amount of storage, so the 64GB upgrade could be worthwhile.
Using this architecture, all of the bits and bytes that, together, make up the whole of every Apple TV app live in some combination two places: Apple's servers and on your Apple TV. Here's how it breaks down:

- The app bundle, accessible through the App Store, limited to 200 MB
- Initial install tags, which are on-demand resources limited to a total of 2 GB (in addition to the 200 MB initial app bundle)
- Prefetched data, which is prioritized for automatic download after the initial app bundle's installation
- Data hosted by the App Store, available on demand, limited to a total pre-sliced size of 20 GB (in addition to the app bundle's size limit)
Apple's own guidelines on storage don't offer much information. Apple suggests that customers who plan to stream movies, TV shows, and music, or play "a few apps and games" will be able to make do with 32GB storage. Those who plan to "download and use lots of apps and games" should choose the 64GB configuration.
Polygon spoke with a number of developers about App Thinning on the Apple TV. While some with smaller apps within the 200MB limit were not bothered, others, like Tyrone Rodriguez who works on The Binding of Isaac, suspected it could be troublesome to deal with App Thinning features.
"App size will be, and no pun intended, a huge issue for some developers," Rodriguez tells Polygon. "This means The Binding of Isaac: Rebirth won't meet Apple's requirements without serious reworking. This device is intended for in-home wi-fi/wired Internet, but it's clear that Apple [wants] to reduce the file size so that more apps can fit on the device. It's a bit disingenuous and not ideal for the game developer."
For a deeper look at how the Apple TV's storage works, how it takes advantage of App Thinning, the benefits of App Thinning, and what developers think of the Apple TV's storage limitations, make sure to check out Polygon's full article on the new Apple TV.
Apple began selling its new Apple TV in its online store this morning, with the first Apple TVs arriving to customers later this week. The device is priced at $149 for a 32GB version and $199 for a 64GB version.