Apple Pay Badges Appear in Some Maps Listings in Australia, Canada, Singapore and Europe
Apple Pay badges have been added to Apple Maps listings for select Coles and Woolworths supermarket locations in Australia, as spotted by multiple users on discussion forum AppleTalk Australia. The badges are normally reserved for locations that accept Apple Pay, which is noteworthy given the mobile payments service has yet to officially launch in Australia.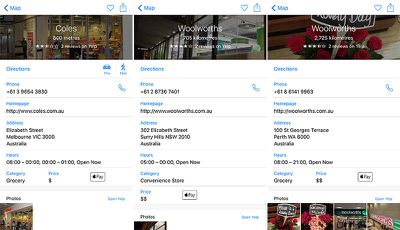 Apple Pay badges added to some Apple Maps listings in Melbourne, Perth and Sydney
The badges appear in Apple Maps for select Coles and Woolworths store listings in or near large Australian cities such as Brisbane, Melbourne, Perth and Sydney. Many other Coles and Woolworths listings do not have the badge, nor do large Australian chains such as McDonald's, so it remains unclear if they were added by mistake, or are indicative of forthcoming Apple Pay support in Australia.
Apple Pay launched in the U.S. in October 2014 before arriving in the U.K. last July, but Apple has remained quiet about its plans to expand iPhone-based contactless payments to additional countries. In August, Fairfax Media reported that Australian banks oppose Apple sharing a portion of the $2 billion interchange fees they collect from merchants each year in return for use of payment infrastructure.
Australia is a well-prepared candidate for Apple Pay, as contactless payments technology has been widely adopted throughout the country over the past few years. Several retailers that support Apple Pay in the U.S. and U.K. also operate in Australia, including Aéropostale, Apple, Babies "R" Us, Champs Sports, Foot Locker, GameStop, McDonald's, Nike, OfficeMax and Subway.
Beyond Australia, The Wall Street Journal previously reported that Apple is planning a November launch of Apple Pay in Canada, which was likely prematurely leaked by TD Canada Trust last week. Apple has reportedly been in talks with Canada's six largest banks, including the Bank of Montreal, CIBC, National Bank of Canada, Royal Bank of Canada, Scotiabank and TD Canada Trust.
Update: Apple Pay badges have also been spotted on some Apple Maps listings in Canada, Czech Republic, Finland, Germany, Poland and Singapore.