Apple TV Gains CBS All Access, NBC, and Made to Measure Channels
Just a week ahead of the launch of the fourth-generation Apple TV, Apple has added several new channels to the existing set-top box. As of today, NBC, CBS All Access, and Made to Measure (M2M) are available on the Apple TV.
The new NBC channel is the first time the network has had a channel available on the Apple TV, aside from the dedicated NBC Sports channel. With the NBC channel, customers can watch full episodes of NBC shows on the Apple TV. Cable authentication is required for some features, but all users can watch some NBC content on the channel without needing a subscription.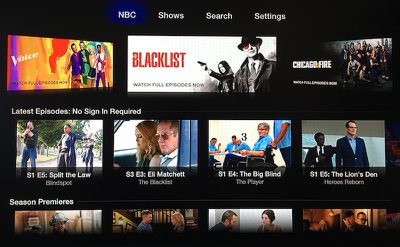 Announced last night, M2M is an Apple TV exclusive channel that focuses on fashion, run by talent agency conglomerate WME/IMG. The channel features short videos, interviews, and mini-documentaries from the fashion world.


The new CBS channel, CBS All Access, is designed to provide access to the CBS All Access streaming service. CBS All Access includes more than 7,500 episodes of CBS shows on demand, and it offers new episodes of all CBS shows the day after they air. Some customers whose local CBS affiliates support All Access will also be able to watch CBS shows live on the channel.


All three of the new channels are available immediately on the existing Apple TV, and will also be available on the new set-top box that's launching on Monday.