Apple TV 4 and iPad Pro Pre-Orders Begin at Select Authorized Resellers in Europe
Just weeks before the Apple TV 4 is expected to be released worldwide, select Apple Authorized Resellers in Europe have begun accepting pre-orders for the new set-top box. The Apple TV 4 is officially slated to launch in late October, but the majority of orders are unlikely to be fulfilled until November.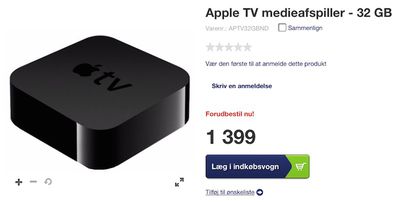 Electronics retailer Elgiganten, equivalent to Best Buy in the Nordic Region, is accepting Apple TV 4 pre-orders in Denmark and Norway with expected delivery in November. The 32GB and 64GB models are listed for 1,399 and 1,849 Danish kroner and 1,749 and 2,299 Norwegian kroner respectively.
German electronics retailer Cyberport has also listed the Apple TV 4 and iPad Pro for pre-order on its website. The authorized reseller lists the 32GB and 64GB Apple TV 4 for €179 and €239 respectively, which could be indicative of broader European pricing, although prices in other countries will likely vary depending on local taxes.


iPad Pro prices range from €899 to €1,229, compared to between $799 and $1,079 in the United States.
Cyberport advertises that the Apple TV 4 will be available from November 5, and lists the iPad Pro as not yet available. Apple has not provided a specific release date for either product beyond late October for the Apple TV 4 and November for the iPad Pro.
(Thanks, Rasmus and Maxime!)