Apple Now Accepting iPhone 6s In-Store Reservations in Second Wave Launch Countries
Apple is now accepting iPhone 6s and iPhone 6s Plus in-store reservations through its Reserve and Pickup program in six European countries where the smartphones are set to launch this Friday, October 9, including Belgium, Italy, Spain, Sweden, Switzerland and the Netherlands.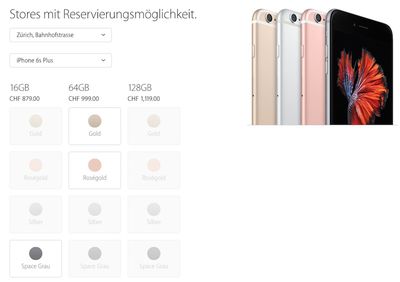 iPhone 6s and iPhone 6s Plus reservations on Apple Online Store in Switzerland
European customers can select an iPhone model, color and storage size and make a reservation at a local Apple Store for in-store pickup on October 9. Most iPhone 6s models remain available for in-store reservation in all six countries, but iPhone 6s Plus models are very limited at most locations.
When you arrive at the Apple Store during your 30-minute check-in window, most locations should have a special line for customers with reservations. Only the person named on the reservation can pick up the iPhone -- bring a government-issued photo ID. Reservations are limited to 2 per customer.
The new iPhones launch in 40 more countries on October 9: Andorra, Austria, Belgium, Bosnia, Bulgaria, Croatia, Czech Republic, Denmark, Estonia, Finland, Greece, Greenland, Hungary, Iceland, Ireland, Isle of Man, Italy, Latvia, Liechtenstein, Lithuania, Luxembourg, Maldives, Mexico, Monaco, Netherlands, Norway, Poland, Portugal, Romania, Russia, Slovakia, Slovenia, Spain, Sweden, Switzerland and Taiwan.
Apple plans to launch the iPhone 6s and iPhone 6s Plus in over 130 countries by yearend.