Apple Responds to YiSpecter Malware, Says Fix Was Implemented in iOS 8.4
Over the weekend, security site Palo Alto Networks detailed a new iOS malware that's able to infect non-jailbroken Apple devices using enterprise certificates and private APIs. It originated in Taiwan and China and was installed through several methods, including hijacking traffic from ISPs, an SNS worm on Windows, and offline app installation.
Called YiSpecter, the malware is able to download, install, and launch apps, doing things like replacing existing apps, displaying advertisements in legitimate apps, changing Safari's default engine, and uploading user information to remote servers.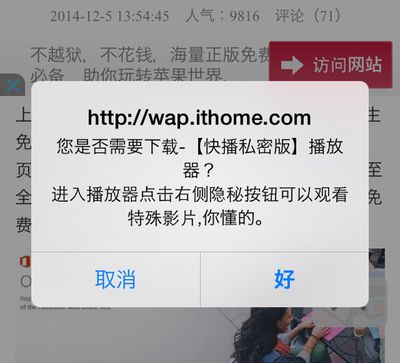 A popup ad that was able to install YiSpecter on iOS devices


In response to the detailing of YiSpecter, Apple has released an official statement to The Loop explaining that YiSpecter is only able to target iOS users who are running an older version of iOS that have also downloaded content from untrusted sources.
"This issue only impacts users on older versions of iOS who have also downloaded malware from untrusted sources. We addressed this specific issue in iOS 8.4 and we have also blocked the identified apps that distribute this malware. We encourage customers to stay current with the latest version of iOS for the latest security updates. We also encourage them to only download from trusted sources like the App Store and pay attention to any warnings as they download apps."
Apple implemented fixes for YiSpecter in iOS 8.4, so iOS 8.4.1 and iOS 9 are immune to the malware. Users who want to avoid being targeted by YiSpecter should make sure to upgrade to the latest version of iOS and as always, should avoid downloading apps from unverified sources.