Sprint today announced a new offer as part of its iPhone Forever program, where customers can get the new 16GB version of the iPhone 6s for $1 per month and the iPhone 6s Plus for $5 per month, with the trade-in of an iPhone 6. The carrier noted that the new offer is a "limited time" deal for those users visiting Sprint's retail locations, with the official launch of the program coinciding with the new iPhone debut on Friday morning.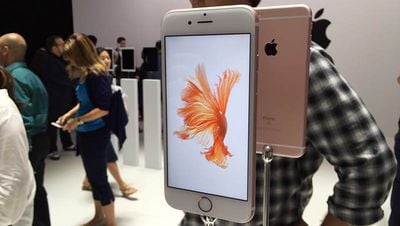 Just like T-Mobile's offering, the price required to pay each month will vary depending on the exact type of iPhone 6s or iPhone 6s Plus model you purchase, and the quality of the iPhone 6 that is traded in. With that in mind, customers can expect to pay around $5.77/month (64GB) or $10.53 (128GB) when purchasing an iPhone 6s, and $9.77/month (64GB) or $14.53 (128GB) when buying an iPhone 6s Plus.

"Once again it is clear that the best place to get the new iPhone 6s and iPhone 6s Plus is Sprint," said Sprint CEO Marcelo Claure. "New and existing customers who trade in their current iPhone 6 can now get a device for only $1/month, making it the best way to get the iPhone – and a yearly upgrade is included in this charge. We are certain that more people will continue to switch to Sprint because of the great service and value we offer."
Those who trade in an iPhone 5s will also be able to participate in the offer, but can expect slightly higher monthly rates due to the older model of the iPhone. Preparations have begun for the launch of the iPhone 6s and iPhone 6s Plus. The smartphones will officially go on sale tomorrow, September 25 in first-wave launch countries including Australia, Canada, China, France, Germany, Hong Kong, Japan, New Zealand, Puerto Rico, Singapore, the UK, and the United States.