Apple Store in Tokyo Begins Setting Up iPhone 6s Display Models
Less than ten hours before the iPhone 6s and iPhone 6s Plus launch in Japan, at least one Apple Store in the country has begun setting up display models for customers to view. The new iPhones will go on sale in Japan at 8:00 AM local time on Friday just a few hours after the smartphones launch in Australia and New Zealand.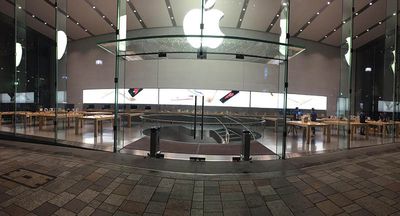 MacRumors reader Shawn DaSilva sent us a trio of photos and a video showing Apple retail employees installing the new iPhones at an Apple Store in Omotesando, Tokyo on Thursday evening. The new iPhones are also advertised on a digital banner spanning the length of the store.


Apple is no longer accepting pre-orders or in-store reservations in time for September 25, leaving lining up at an Apple Store as one of the only options to get a new iPhone on launch day. Apple is not allowing walk-in sales in China, Hong Kong, Japan and four tax-free U.S. states: Oregon, Delaware, New Hampshire and Alaska.
If you plan on
waiting it out at an Apple Store
, it is highly recommended that you reschedule any important plans tomorrow, as it can take several hours before you reach the front of the queue. In some cases, in-store stock of new iPhones may run out completely before you get a chance to buy one.