T-Mobile CEO John Legere has announced on Twitter that it will offer the iPhone 6s for as low as $5 per month through JUMP! On Demand with an iPhone 6 trade in, or as low as $10 per month with an iPhone 5s trade in. The exact monthly payment will range between $5 and $15 per month depending on the iPhone 6s model you purchase and older iPhone model traded in.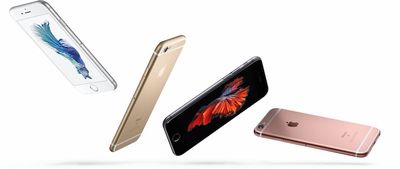 If you do not want to trade in your current iPhone, T-Mobile has a JUMP! On Demand promotion that offers the 16GB iPhone 6s for $20 per month for 18 months with zero dollars paid upfront, totaling $360 under the agreement the device is returned in good condition. To keep the iPhone, you must pay an additional $164, bringing the total cost to $524 -- a savings of $125 and the best deal for those willing to join T-Mobile.
6/ YES – you read it right! Trade-in an iPhone6 & get a new #iPhone6s for $5/mth or trade-in your iPhone5s & get a new one for $10/mth! — John Legere (@JohnLegere) September 22, 2015
T-Mobile will begin selling the iPhone 6s and iPhone 6s Plus on September 25. The smartphones will support T-Mobile's
Extended Range LTE
on the 700MHz spectrum, which extends the network's LTE signal twice as far from its cellular towers and works four times better in buildings. T-Mobile Extended Range LTE is live in 175 markets and covers more than half of the American population.
T-Mobile will honor this deal for customers who already pre-ordered an iPhone 6s or 6s Plus.