Apple Releases iOS 9.0.1 for iPhone 6s and 6s Plus
Apple today released a version of iOS 9.0.1 designed for its newest devices, the iPhone 6s and the iPhone 6s Plus. iOS 9.0.1 was initially seeded to the public yesterday, but that version of the software did not include support for the iPhone 6s and the iPhone 6s Plus.
Customers who receive an iPhone 6s or 6s Plus tomorrow will need to update to the new operating system after unboxing their devices, as they will presumably ship with iOS 9.0 installed.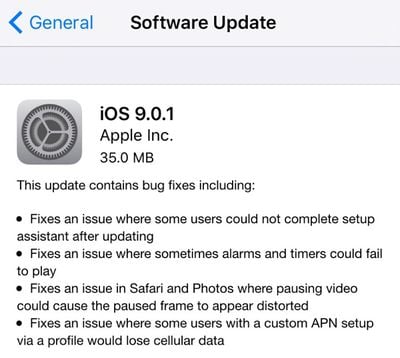 iOS 9.0.1 is a minor software update that was released one week after the public launch of iOS 9. It includes several bug fixes, including a fix for an issue that prevented some users from upgrading their iPhones to iOS 9 because of an unresponsive "Slide to Upgrade" dialog.
There are just a few hours to go until the iPhone 6s launch kicks off in New Zealand. Once 8:00 a.m. rolls around in the country, iPhone 6s pre-order deliveries will begin. The first Apple Store sales will begin a couple hours later as 8:00 a.m. hits in Australia. In the United States, retail stores will open at 8:00 a.m. local time and pre-order deliveries will start at 9:00 a.m.