iPhone 6s Plus Has Smaller 2750mAh Battery
Apple's iPhone 6s Plus includes a 2750 mAh battery, according to images shared by Taiwanese site AppleClub [Google Translate]. That means the battery in the iPhone 6s Plus is smaller than the 2915 mAh battery found in the existing iPhone 6 Plus.
We've already learned the iPhone 6s has a smaller 1715 mAh battery because it was spotted in a video Apple created to highlight 3D Touch, but there's been no visual confirmation on the iPhone 6s Plus battery until now.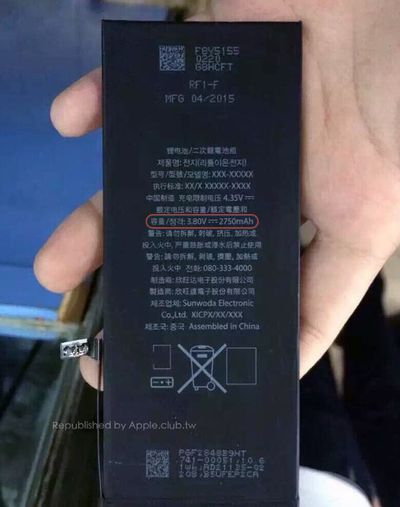 Ahead of the debut of the iPhone 6s and 6s Plus, rumors suggested both devices would have smaller batteries, which turned out to be accurate. It appears Apple may have adopted smaller batteries in the new iPhones in order to make room for new internal parts like a dedicated Taptic Engine that enables haptic feedback whenever 3D Touch is used.
Though the iPhone 6s and 6s Plus have smaller batteries, overall battery life has not been impacted due to optimizations in the A9 processor in the devices and software improvements. Both devices continue to offer the same battery life as the iPhone 6 and the iPhone 6 Plus.
Apple's iPhone 6s and 6s Plus will launch this Friday, September 25. Pre-order customers will begin receiving their devices at that time, and Apple retail stores in first wave launch countries will begin selling the iPhone 6s and 6s Plus at that time.