Amazon today announced the follow-up to last year's Fire TV streaming device, simply dubbed "The New Amazon Fire TV." The new $99 box is getting a handful of new features, including 4K ultra HD video streaming, the addition of the company's Alexa voice assistant into the operating system, and a processing boost of 75 percent over last year's model.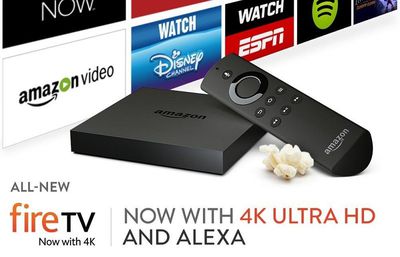 The introduction of Alexa will allow customers to play their music, check on the score of a sporting event, and see how the weather is outside, all while using their voice. Speaking into the Fire TV remote will bring the voice assistant up -- who made her debut in the Amazon Echo last fall -- and she will eventually become more acclimated to each customer's speech patterns, vocabulary, and personal preferences.
In addition to 4K ultra HD streaming, the company promises higher quality basic HD video for everyone who doesn't have a television set that supports 4K settings. Amazon has also introduced expandable storage, allowing customers to increase the 8GB of on-device storage all the way up to 128GB for a variety of apps and games.

"The team has packed an incredible amount of technology and innovation into a tiny package," said Jeff Bezos, Amazon.com Founder and CEO. "The new Fire TV includes 4K support, more processing power, Alexa integration, the largest selection, and exclusive features—for less than $100. The new Fire TV Stick with Voice Remote brings voice search and Alexa integration for less than $50. These are powerful devices at incredible prices."
Concerning games specifically, the company also announced an entirely new Amazon Fire TV Gaming Edition, which is essentially today's newly announced Fire TV bundled alongside the new Fire TV Gaming Controller, a 32GB microSD card, and Shovel Knight and Disney's Ducktales pre-installed. The new gaming controller includes voice commands and search like the traditional Fire TV remote, plus access to Alexa, up to 90 hours of battery life that use AA batteries, and an audio headphone jack.


With a launch date of October 5, both bundles of the new Fire TV can be pre-ordered beginning today, with the traditional Amazon Fire TV retailing at $99 and the Amazon Fire TV Gaming Edition going for $139. The company also introduced a new bundle of the Fire TV Stick for $49 that now includes the voice remote, which will begin shipping on October 22.