Amazon Unveils Echo, a Speaker With a Siri-Like Voice Assistant
Amazon today unveiled a new product called Echo, a cylindrical piece of hardware with a built-in Siri-style voice assistant that's able to answer a variety of requests and perform functions like playing music.
The cloud-connected Echo is entirely controlled by voice and will wake to answer a question when the word "Alexa" is spoken. Like Siri, it can answer questions like "What time is it?" "What's the weather like?" and more, plus it's able to complete tasks like setting an alarm, playing music, or creating a shopping list.
According to Amazon, Echo uses far-field voice recognition capabilities with seven microphones to detect a request from anywhere in a room, and its downward-firing speakers "can fill any room with immersive sound." Echo lets users have access to Amazon Music, Prime Music, iHeartRadio and TuneIn, and with built-in Bluetooth, Echo is also able to play music from a phone or tablet.
As it's connected to the cloud and Amazon Web Services, Echo is designed to learn and gain functionality over time, and an accompanying Amazon Echo app (Android/Fire OS only) or web interface is what lets Echo create alarms, music playlists, shopping lists, and more.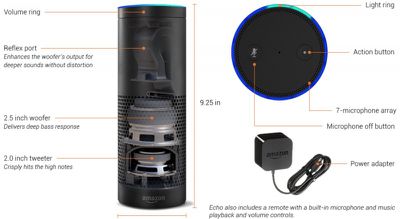 Echo is priced at $99 for Amazon Prime members and $199 for non-Prime members, but currently users must request an invitation from Amazon to be allowed to purchase the device.