Discover Rolls Out Apple Pay Support for iOS 9, Offers 10% Cashback Bonus for Apple Pay Purchases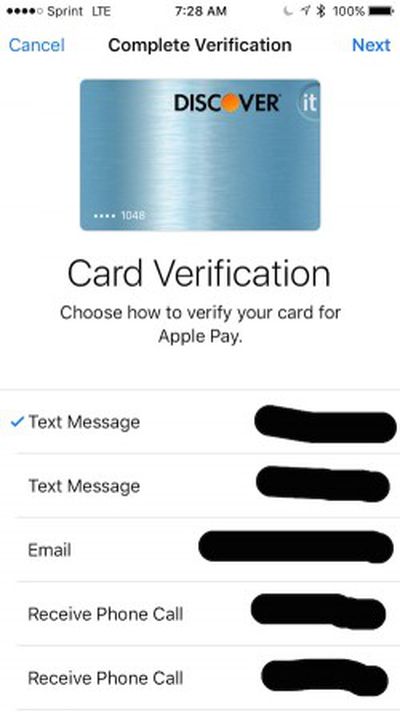 As promised earlier this year, Discover has rolled out support for Apple Pay as of today for users running iOS 9 betas or the golden master. Other users will be able to add Discover cards once iOS 9 launches to the public in a few hours. With the addition, Discover cardholders will be able to take advantage of Apple Pay to make secure, contactless payments using Apple's payment service.
To encourage users to give Apple Pay a try, Discover is offering a deal for all of its U.S. cardmembers. Any customer who uses their Discover cards through Apple Pay will get a 10 percent Cashback Bonus through the end of 2015. Cashback Bonuses are available on up to $10,000 of in-store purchases, and Discover it Miles, Miles, and Escape cardmembers will earn an extra 10 miles per dollar on up to $10,000 of in-store purchases.
"We are excited for Discover cardmembers to have the ability to use Apple Pay. Rewards have always been important to our cardmembers, and we want to make sure they receive a generous offer for shopping with Discover and Apple Pay," said Heather Roche, vice president of rewards at Discover. "We want to encourage new and existing Discover cardmembers to add their Discover card to Apple Pay with a few simple clicks using our mobile app, take advantage of this 10% Cashback Bonus, and experience the ease and convenience of using Apple Pay."
According to Discover's Apple Pay press release, Discover members who want to use their cards with the service will need to update to Apple's latest operating system, iOS 9, and then add their cards to the newly renamed Wallet app (formerly Passbook). From there, adding a card to Apple Pay is as simple as scanning it in and verifying it, as seen in our how to on using Apple Pay.
With Discover now supporting Apple Pay, all of the four major credit card networks in the United States work with the payments service. MasterCard, American Express, and Visa have worked with Apple Pay since the service launched in October of 2014.
Since Apple Pay first became available, Apple has worked with hundreds of banks and credit unions to expand Apple Pay support. A full list of supported banks in both the United States and the United Kingdom is available on Apple's website.
Apple Pay is compatible with the iPhone 6, iPhone 6 Plus, iPhone 6s, and iPhone 6s Plus. Apple Pay is also available on an Apple Watch paired with one of the aforementioned devices or an iPhone 5, 5c, or 5s.
(Thanks, tmiw!)