MacUpdate today launched its latest software bundle, offering ten Mac apps that have a total value of $550 for a $49.99 purchase price. Several popular Mac apps are included, with normal prices ranging from $15 to $149.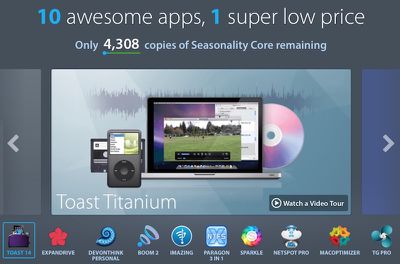 A full list of the titles included in the bundle, their value, and a software description is below:
- Toast 14 ($99.99) - There is no easier or faster way to save, share, and enjoy your digital media on disc. Capture, convert, copy, burn and share with Toast, the complete digital media toolkit for your Mac.
- ExpanDrive ($49.95) - ExpanDrive builds cloud storage in every application, acts just like a USB drive plugged into your Mac. With ExpanDrive, you can securely access any remote file server directly from the Finder or even the terminal.
- DEVONthink Personal ($49.95) - DEVONthink Personal keeps your documents, notes, bookmarks. Its unique tools and artificial intelligence let you manage your files effortlessly and focus on things that really matter.
- iMazing ($34.99) - Ultimate iPhone to Computer Transfer. iMazing supports iPhone 6 and every iPhone, iPad & iPod and gives you total control and absolute simplicity in use.
- Boom 2 ($14.99) - A system-wide volume booster and equalizer app, Boom 2 comes with a smart interface, self-calibration, hands-on advanced equalizer controls for finer audio control and amazing audio effects for enhanced audio output.
- Paragon 3 in 1 Bundle ($39.95) - Just install the driver, attach a disk or other media and use it as you wish, either under Windows OS or Mac OS X. Bundle includes NTFS for Mac 12, HFS+ for Windows 10 and Camptune X.
- Sparkle ($79.99) - The web design tool for creating modern sites with unparalleled creative control. Skip the tedium and design a gorgeous site that works right out of the box.
- NetSpot Pro ($149.00) - NetSpot Pro is a simple and accessible wireless survey tool for Mac users, which allows collecting, visualizing and analyzing Wi-Fi data using any MacBook.
- MacOptimizer 3 ($29.00) - An incredibly fast and efficient disk utility to quickly help you clean, repair and organize your Mac. MacOptimizer gets your Mac back in shape with quick, essential tools.
- TG Pro ($15.00) - Find out which components of your Mac are potentially overheating, turn up the fan speeds to cool down your Mac, get notifications for temperature alerts and more.
The first 5,000 people who purchase the MacUpdate bundle will also receive a copy of Seasonality Core, valued at $24.99. Seasonality Core is a weather monitoring app that includes weather forecasts, astronomical information, satellite images, and a weather journal.
The MacUpdate software bundle will be available for purchase for the next two weeks. MacRumors is an affiliate partner with MacUpdate, so bundles purchased through the links in this article will benefit MacRumors financially and provide a way for readers to support the site.