Apple Invites Media to September 9 Event: 'Hey Siri, Give Us a Hint'
As predicted in August, Apple is planning to hold a media event on Wednesday, September 9 at the Bill Graham Civic Auditorium in San Francisco, California. Media invites were sent out today, with Yahoo's Alyssa Bereznak sharing the first look at the artwork and tagline for the invitations: "Hey Siri, give us a hint."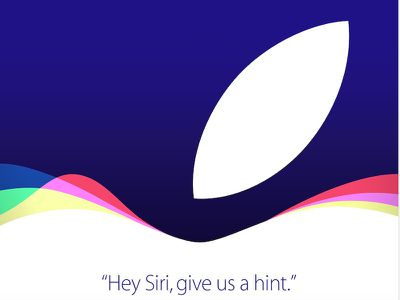 This year's iPhone-centric event is expected to see the debut of the next-generation iPhone 6s and iPhone 6s Plus, which, according to rumors, will include a reinforced body constructed from stronger 7000 Series aluminum, Force Touch, an A9 processor, 2GB RAM, and an improved camera.
Rumors have also suggested Apple will use the event to unveil the next-generation Apple TV, a major update from the existing set-top box. It will include a redesigned chassis with an A8 processor, more storage space, and a touch-based remote control, along with a new software system that includes Siri support and a full App Store.
We'll also get an update on the launch dates of iOS 9 and watchOS 2, and shortly after the event ends, we may see golden master software releases for the two software updates ahead of their final public launch.
In line with past events, the September 9 iPhone unveiling will begin at 10:00 a.m. Pacific Time. Apple has not yet confirmed whether the event will be live streamed on its website and through the Apple TV, but it is likely details on a live stream will be announced a few days ahead of the event.
Update: Siri itself is also getting in on the festivities with some witty responses.


Update 2: Apple will be live streaming the media event on the web for Mac, iPhone, iPad, Apple TV and PC users.