Apple Starts Selling Third-Party Apple Watch Accessories in Retail Stores
As of today, Apple has begun selling third-party Apple Watch accessories in its retail stores. The first third-party Apple Watch product Apple is offering on store shelves is ElevationLab's NightStand for Apple Watch.
Priced at $29.95, the NightStand is a simple, affordable Apple Watch stand that was one of the first Apple Watch stands on the market. The NightStand was originally offered only in blue, black, and red, but it appears the company partnered with Apple to offer stands that match each of the Apple Watch Sport bands. Apple is selling the NightStand in pink, blue, green, black, and white.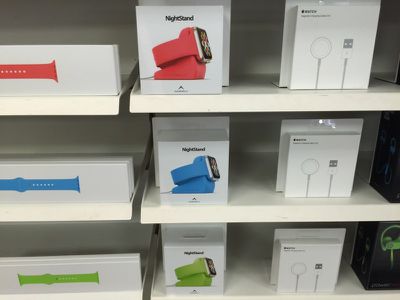 We visited an Apple Store in North Carolina, where the NightStands are on display next to the Apple Watch Sport bands, Apple Watch chargers, and matching Beats headphones.
The NightStand is one of the few Apple Watch stands available for purchase that supports watchOS 2's upcoming Nightstand Mode, which may be one of the reasons why Apple chose it for retail stores. With Nightstand Mode in watchOS 2, the Apple Watch is able to serve as an alarm clock while charging.


According to a source that spoke to MacRumors, the NightStand from ElevationLab is the only Apple Watch accessory Apple is offering for now, but additional accessories might start appearing in stores in September. ElevationLab's NightStand is currently only available in retail stores and is not yet being offered online.
Apple's decision to begin offering third-party Apple Watch accessories comes amid a major revamp of its retail stores. As of today, Apple retail stores no longer have iPad "smart signs" that display pricing information and product details next to each product for sale.


Instead, Apple's display products, such as iPhones, iPads, and Macs, now include a dedicated "Pricing" app that users can open up to get pricing information.


In recent months, Apple Stores have been undergoing some significant transformations. Along with the removal of the smart signs to reduce clutter and confusion, Apple has also slimmed down on the number of accessories for a more refined look. In the future, many accessories will also feature Apple-designed packaging.