'iPad Pro' Production Reaffirmed for September-October Ahead of Rumored Late 2015 Launch
Taiwanese website DigiTimes today reported the "iPad Pro" will enter production by the end of the third quarter and go into mass production in the fourth quarter, corroborating a recent KGI report that said the rumored 12.9-inch tablet would enter mass production in September-October.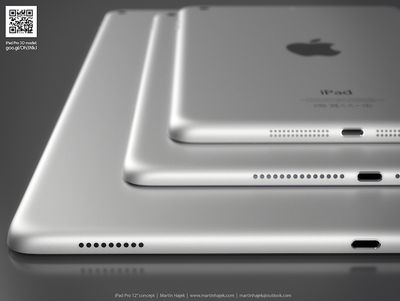 "iPad Pro" mockup places 12.9-inch tablet alongside iPad Air and iPad mini
The report claims the "iPad Pro" will be released in the fourth quarter, with an estimated 4-5 million shipments in 2015.
DigiTimes
reported in July that the "iPad Pro" could
launch in mid-November
as Foxconn prepared to start supplying components at the time, but the release timeframe remains uncertain.
The report claims Sharp will be the main supplier of LCD displays for the tablet, while Foxconn subsidiary General Interface Solution (GIS) will provide touch panels. Samsung Display and TPK will be secondary suppliers of LCD assemblies and touch modules respectively, according to the report.