Apple to Demote iPod Stock to Accessory Shelves In Retail Stores
Apple will relocate iPod stock from the sales floor and back storage area to the accessory shelves and remove the iPad-based Smart Signs that sit next to many display devices starting on Wednesday, according to a new report from 9to5Mac. The changes are an effort by Apple to simplify the shopping experience in its retail stores.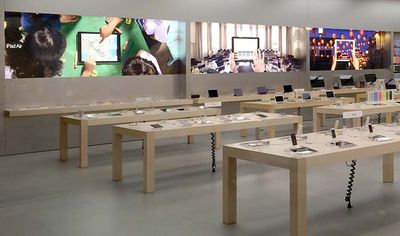 Apple is preparing to make significant changes to its stores to simplify the experience by relocating iPod stock to accessory shelves and removing iPad-based Smart Signs, according to several Apple Retail managers briefed today on the plans. Apple will begin rolling out these notable changes overnight on Tuesday to stores in the United States so that customers who begin coming in on Wednesday see the refreshed look.
Apple's signature products, the iPad, Mac, iPhone, iPod and Apple Watch, have typically been stored in the back storage area of an Apple Store. A customer would have to talk to an Apple Store employee and tell them which model they would like to purchase and wait as their product was retrieved from the back. Apple's non-signature products, like Apple TV and Time Capsule, are available on the accessory shelves and are easily accessible by customers without having to consult with a retail employee.
Now, customers will be able to simply walk up and pull their iPod of choice off of the store shelves. The demotion of the iPod from the main floor to the shelves is likely reflective of the iPod's decreased sales, as the device has become an increasingly minor business for Apple. The Cupertino company has also decreased the iPod's presence on its website, removing the iPod section from the website's top banner.
Additionally, Apple is removing the iPad 2-based Smart Signs intended to educate customers about Apple products. Sources tell 9to5Mac that some customers would get confused using the Smart Signs, expecting them to be fully usable iPad demo units rather than simple ways to learn about a product. Instead, Apple will begin loading product information directly on the iPads, iPhones and Macs starting next week. With less clutter on the product tables, Apple plans to install more devices for customers to test on the sales floor.
The changes to the retail stores follow Apple's move to merge its website and online store, also creating a more simplified shopping experience for customers.