Nearly Half of Apple Music Users in U.S. No Longer Using Free Trial
A new study by consumer research firm MusicWatch finds that 77% of iOS users in the United States are aware of Apple Music, with 11% currently using the streaming music service. Additionally, among those that signed up for Apple Music's three-month trial, 48% said they are no longer using the service and 61% reported they have turned off the auto-renewal subscription option in iTunes.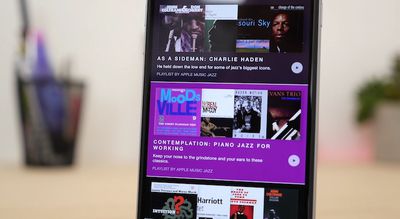 Apple Music has attracted more users from Spotify Premium than ad-supported services such as Spotify Free and Pandora:
More than one quarter (28 percent) of Spotify Premium customers also use Apple Music, but the draw from popular ad-supported services is more modest: Just 11 percent of Spotify Free users, and 6 percent of Pandora users, now use Apple's offering.

"In terms of benchmarking Apple Music, 40 percent of iOS users are buying digital downloads from iTunes, suggesting trial of Apple Music could be higher," said Russ Crupnick, managing partner of MusicWatch. "That's the disadvantage of not being the first mover in a market where very good services currently exist."
While nearly half of iOS users that have tried Apple Music are no longer using the service, with some maintaining their loyalty to Spotify, Pandora and other rivals, the study finds that 64% of current users said they were "extremely" or "very likely" to pay for an Apple Music subscription following the free trial period, which concludes on September 30 for those that signed up on launch day.
The research study also claims that 30% of Apple Music users listen to Beats 1, while 27% use Apple Music Connect. MusicWatch's data is based on an August 2015 survey of 5,000 U.S. consumers age 13 and older, and the results were weighted to the U.S. population. The research firm has been cited by publications such as The New York Times, The Wall Street Journal and Fortune.
Update: In a statement to The Verge regarding this survey, Apple said 79 percent of people who signed up for the Apple Music free trial are still using Apple Music.