Apple Begins Taking Orders for Standalone Modern Buckle Apple Watch Bands
Apple today began selling the 38mm Modern Buckle band on a standalone basis, marking the first time the Modern Buckle band has been available for purchase since the Apple Watch launched on April 24.
Over the course of the last several months, all other bands have become readily available, but the Modern Buckle bands in all sizes and colors has continued to say "Currently unavailable," with no prospective ship date given. The only way to get a Modern Buckle band prior to this morning was to purchase it alongside an Apple Watch.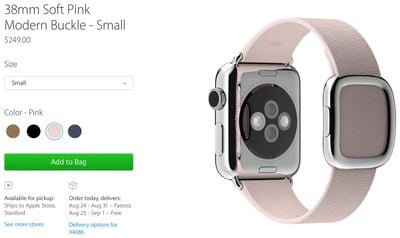 The Modern Buckle is made from Granada leather sourced from a single small tannery in France, which may explain why it has been available in such limited quantities. The Modern Buckle also includes a unique magnetic buckle closure and the leather of the band is reinforced with Vectran weave to keep it from stretching.
All sizes and colors of the Modern Buckle band -- including Brown, Black, Soft Pink, and Midnight Blue -- are in stock. Orders placed today will deliver between August 24 and September 1, with in-store pickup being unavailable at this time.