Apple Releases iOS 8.4.1 With Apple Music Improvements and Bug Fixes
Apple today released iOS 8.4.1 to the public, roughly six weeks after releasing iOS 8.4 with the new Apple Music service and one month after first seeding the first iOS 8.4.1 beta to registered developers for testing purposes.
Today's iOS 8.4.1 update is Build 12H321 and can be downloaded over-the-air through the using the Software Update tool in the Settings app on iOS devices.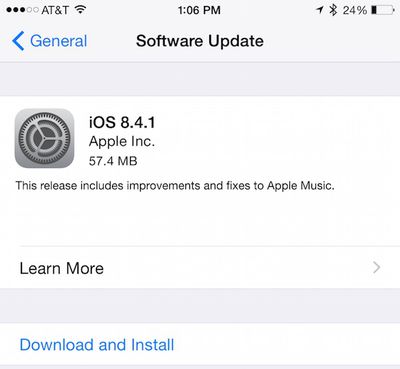 iOS 8.4.1 is a minor update that includes under-the-hood performance improvements, bug fixes, and security updates. Throughout the testing period, no outward-facing changes were discovered in the beta, and Apple's release notes specifically mention only Apple Music improvements and fixes.
This release includes improvements and fixes to Apple Music.

- Resolves issues that could prevent turning on iCloud Music Library
- Resolves an issue that hides added music because Apple Music was set to show offline music only
- Provides a way to add songs to a new playlist if there aren't any playlists to choose from
- Resolves an issue that may show different artwork for an album on other devices
- Resolves several issues for artists while posting to Connect
- Fixes an issue where tapping Love doesn't work as expected while listening to Beats 1
It's likely iOS 8.4.1 will be one of the last updates to the iOS 8 operating system. iOS 9, iOS 8's successor, has been in testing since June and is on track to be released in the fall alongside new iPhones. iOS 9 builds on the features introduced in iOS 8 and adds both new content and underlying performance improvements.