Target Begins Testing Beacon-Based Deals and Recommendations in 50 Stores
Target this morning announced that it would begin testing beacon technology in 50 of its stores in Chicago, Denver, Minneapolis, New York City, Pittsburgh, Portland, San Francisco and Seattle (via Buzzfeed and TechCrunch). The company plans to use the technology to send deals and customized recommendations to customers who opt-in to get the notifications within the Target iOS app [Direct Link].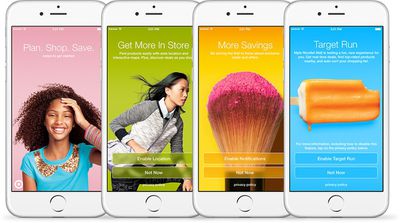 After users download the app and turn on notifications and Bluetooth, the beacon technology will discover where customers are within each Target location and send out subsequent push notifications regarding items in their nearby vicinity. Target promises that it will keep beacon alerts to a maximum of two per shopping trip. The company says the current plan is to "adapt and enhance" the service following the 50-store roll out, then introduce it to other locations sometime later in the year.

During Target's testing period, capabilities are limited to surfacing deals and recommendations based on what section of the store a customer is in: A two-for-one deal on Tylenol pops up when a shopper hits the pharmacy, or a recipe for banana bread appears while walking through the fresh fruit section. Target has plans to add features like reorganizing a shopping list based on the most efficient route through the store, and pushing a reminder if you forgot anything on that list once you hit the checkout line, but these will not be available at launch.
Target hopes that the Bluetooth-enabled technology will be welcomed by customers, thankful of its ability to keep them in the loop of weekly deals -- courtesy of a bit of synergy with the company's Cartwheel coupon app [Direct Link] -- in addition to acting as a hub and guide in their shopping experience. The beacon technology will even gather data from third-party apps, letting users know what clothes and shoes near them in the store are currently trending on Pinterest, for example.
Apple has its own spin on the beacon technology, iBeacons, that it's rolled out in all of its brick-and-mortar retail stores across the country. Like Target's plan, the App Store app provides customers with nearby notifications of accessories to purchase and even local store events that may be occurring. Last year, the company tested the technology in small scale retail store locations like American Eagle and even at Dodger Stadium in Los Angeles.