Sixth OS X El Capitan Beta Includes More Hints to 4K 21.5-Inch Retina iMac
Apple's sixth OS X 10.11 El Capitan beta, released on Monday, includes a few lines of code that yet again reference the possibility of a forthcoming 4K 21.5-inch Retina iMac, as discovered by Consomac [Google Translate]. A similar occurance happened back in June, when some code in the second OS X El Capitan beta referenced a 4K 21.5-inch iMac screen, but, as yet, Apple hasn't given any word on the veracity of the rumors.
Consomac's research into the code of the new OS X beta found three new files, two of which include screen resolutions that hint at the possible arrival of new 5K 27-inch iMacs, and the other with a 4096×2304 resolution. Like the second El Capitan beta, this code could potentially refer to a 21.5-inch Retina iMac display with 4K resolution coming down the line. Although, as Consomac discovered, an image accompanying the three files points to a design that will largely "remain unchanged" for the new line-up.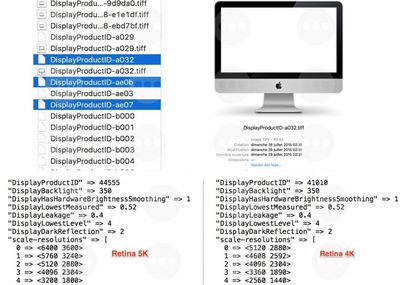 Beginning last October, Apple launched a few updates for the 27-inch iMac with Retina Display, but the rest of the iMac line-up hasn't seen a proper upgrade since September 2013. The major reasoning behind the stalled upgrade cycle is the company waiting for Intel's various desktop components -- including the Broadwell and Skylake processors -- to be available for a more substantial update to Apple's smaller-sized desktop computer line-up.
An update to the 21.5-inch iMac line has been hinted at for a while now, including a rumor just yesterday from KGI Securities analyst Ming-Chi Kuo that pointed to the iMac line gaining a significant boost this quarter. Kuo points to display improvements with greater color saturation thanks to a few new processors, but never references directly the arrival of a retina display for the 21.5-inch iMac line. Still, the timing with back-to-school shopping swinging into gear, and the lengthy update cycle of the 21.5-inch line-up, definitely suggests an impending update for the model sometime soon.