Apple Music Licensing Deals Include Permissions for Additional Beats Radio Stations
Apple's licensing terms with record labels give the company permission to create up to five additional radio stations like Beats 1, reports The Verge, citing sources with knowledge of Apple's deals. Without needing to negotiate new terms, Apple could potentially launch additional Beats stations around the world, adding DJs in other countries or launching stations with a specific focus.
As part of the deal it struck with the major labels for Apple Music Radio, Apple has licenses for up to five additional stations like Beats 1, without having to renegotiate with the labels. That means Apple could launch a Beats 2 station headquartered in Australia or Asia, allowing it to provide live radio around the clock (Beats 1 is only live 12 hours a day).
It seems Apple is indeed considering and preparing for a potential expansion Beats 1 with new Beats radio stations, as the company has registered domains like beats2.com.cn, beats2.hk, and beats4.com.ru in various countries around the world. Beats 1 is broadcast worldwide, but in the future, Apple may wish to offer stations that cater to different languages and music tastes around the world.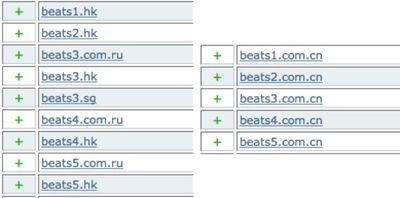 Labels may have given Apple permission to create additional radio stations due to the fact that Apple is allegedly paying more per-play than Pandora for music that is streamed on Beats 1.
The Verge's sources also commented on the status of Apple Music, stating that labels are "pretty pleased" with Apple Music's performance thus far and that the service has gained a "substantial" number of users since it launched on June 30. Of course, all Apple Music subscribers right now have free access to the service until October, so it's still impossible to gauge how Apple Music measures up to competing services like Spotify.
As of this month, Apple has initiated a major advertising campaign for Apple Music, with billboards and signage popping up in cities around the world like San Francisco, Tokyo, Toronto, Los Angeles, and Mexico City, which should bump up subscriber numbers.
Apple has also maintained momentum with its Beats 1 radio station through a series of exclusive song releases and interviews with artists. Most recently, Beats 1 scored an exclusive with MTV, with the network using the platform to announce the 2015 Video Music Award nominees.