New iPod Touch Teardown Confirms 1,043 mAh Battery and 1GB of RAM
iFixit has posted a detailed teardown of the new sixth-generation iPod touch, confirming that the device has a 1,043 mAh rated lithium-ion battery and 1GB of SK Hynix LPDDR3 RAM. Comparatively, the fifth-generation iPod touch released in 2012 had a 1,030 mAh rated battery and 512MB of RAM.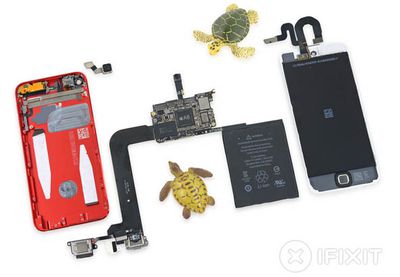 The teardown also provides a closer look at the new iPod touch's Apple A8 chip and M8 motion coprocessor (NXP Semiconductors LPC18B1UK ARM Cortex-M3 Microcontroller), Toshiba NAND flash memory, InvenSense MP67B 6-axis gyroscope and accelerometer, Bluetooth and Wi-Fi module, Broadcom and Texas Instruments touchscreen controllers and other components.


The new iPod touch received a relatively low repairability score of 4 out of 10, with ten being the easiest to repair, due to several components being soldered together, no external screws and ribbon cables that are difficult to remove. iFixit has posted detailed step-by-step teardown instructions for the new iPod touch and sells the required tools and parts for most do-it-yourself repairs on its website.