Professional image editing app Affinity Photo, created by the same team that's behind the award-winning Affinity Designer app, is today launching in the Mac App Store. Affinity Photo is designed to allow photographers to enhance, edit, and retouch images and is the culmination of five years of work.
The app includes a huge range of photo editing tools for everything from minor manipulations to drastic edits that alter shapes and remove objects from images. It's been in beta testing since February and has been updated with features and improvements that beta testers have requested.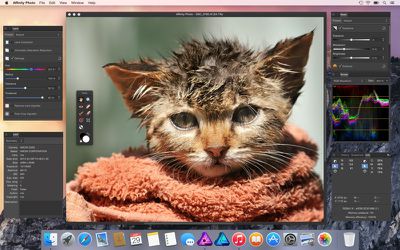 As an app oriented at professionals, Affinity Photo includes features like lens and exposure corrections, live filter layers, controls for channels and masks, advanced layer handling, RAW support, 16-bit channel editing, ICC color management, detailed EXIF info, Photoshop PSD import and export, and frequency separation editing that separates color from texture for retouching skin. According to Affinity Photo's developers, the speed at which it completes tasks and the app's ability to show edits in real time are the most notable features to be aware of.
"The performance of the product is what we are most proud of," said Tony Brightman, head of Affinity development. "We take full advantage of all the latest Apple technologies like OpenGL, Grand Central Dispatch and Core Graphics. What this means to the user is whether it's a 100 megapixel image or a complex composition with 1000s of layers, you can still pan and zoom at 60fps and see live views of all adjustments, brushes, blend modes and filters with no compromise. It's this speed and depth of features which really makes Affinity Photo a joy to use, and sets it apart from anything else out there."
Affinity Photo
also includes specific task-focused workspaces for developing, post-processing, liquify, and export, plus it has customizable toolbars with drag and drop panels. It offers vector drawing and text editing tools, an advanced brush engine with custom brush options, unlimited layers, a snapping system with pixel alignment, and an undo history for undoing changes.


For retouching and making corrections to photos, there's an Inpainting brush for removing unwanted objects, a selection brush for selecting detailed elements in an image, a tool for removing blemishes and red eye, single-plane and dual-pane perspective correction, and a Liquify tool for manipulating images with warps, pinches, twirls, and more. There are also quite a few effects for adding features like tilt-shift, shadows, glow, blurs, and distortions.


In addition to taking advantage of features like OpenGL and Core Graphics, Affinity Photo is compatible with Macs that have a Force Touch trackpad, enabling pressure sensitivity. It supports Retina displays, is fully optimized for 64-bit and multi-core processors, and includes iCloud Drive support.
To celebrate its launch, Affinity Photo is available from the Mac App Store for $39.99 until July 23. After that time, the price will increase to $49.99. [Direct Link]