Survey Suggests 'iPhone 6s' Could Outsell iPhone 6 and iPhone 6 Plus
While every new iPhone model released has gone on to outsell its predecessor, dating back to the iPhone 3G outselling the original iPhone, the overwhelming success of the iPhone 6 and iPhone 6 Plus has created some skepticism about whether Apple will be able to continue that trend in the future.
The 4.7-inch and 5.5-inch iPhone 6 and iPhone 6 Plus have been popular among consumers because of their larger screens, a long-awaited hardware feature that was previously limited to Android-based smartphones and other devices. The new iPhones are also slimmer and feature faster A8 processors and improved iSight cameras.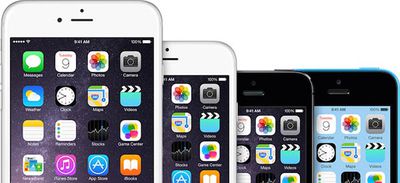 Nevertheless, a new survey from RBC Capital Markets suggests the so-called "iPhone 6s" could actually be more popular than the iPhone 6 and iPhone 6 Plus. The research firm expects positive year-over-year growth in the December quarter, claiming that carrier contracts are ultimately the deciding factor in a customer's upgrade cycle.
"While there has been concern regarding AAPL going ex-growth in Dec-Qtr, our survey work shows carrier contracts are the bigger driver for refresh cycles, implying 6s cycle should be positive given contract renewals and sustained expansion of 4G networking in China. We are raising our estimates ahead of Street expectations for June, FY15/FY16 but maintaining our OP rating and $150 target."
RBC Capital Markets surveyed 6,000 individuals about their smartphone purchasing decisions and found that loyalty remains strong among Apple customers, meaning that the company should be able to increase iOS adoption and revenue going forward. However, the investment bank warns that iPad demand has not picked up and could further disappoint expectations in the June quarter.

50% of surveyees who plan to purchase a new smartphone will do so within 12 months
Specifically, the research firm found that 83.4% of current iPhone customers intend on staying with Apple, while 64.2% of Samsung customers expressed their future commitment to the South Korean handset maker. It also found that about 50% of customers who plan on purchasing a new iPhone will do so in the next 12 months, with longer battery life the most requested improvement.
Apple's next-generation iPhones will likely retain similar physical designs as the iPhone 6 and iPhone 6 Plus, including 4.7-inch and 5.5-inch screen sizes. The smartphones are also rumored to feature an A9 processor with 2GB of RAM, Force Touch, 7000 Series aluminum, improved 12-megapixel camera, a new rose gold color option, improved Touch ID recognition and more.