Apple and Beats Scrapped Sonos-Like Speaker Post Acquisition
Before it was acquired by Apple, Beats Electronics was working on a Sonos-like Wi-Fi-connected loudspeaker that would play music from services like Pandora and Spotify straight from the Internet, reports Variety. The news comes days after learning that the new Apple Music streaming service will not immediately be compatible with Sonos speakers.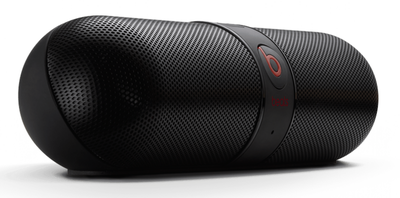 Beats Pill speakers
Case in point: Beats Electronics, which Apple acquired for $3 billion last year, was working on a Wifi-connected loudspeaker that could be used to play subscription music services straight from the Internet, according to multiple sources familiar with the project. That would have put Beats in direct competition with Sonos, a Santa Barbara, Calif.-based speaker manufacturer succeeding with a very Apple-like product lineup.
The product was set to be launched during the holiday season of 2014 but was scrapped after Apple acquired Beats. The headphone maker was looking to first introduce a powerful speaker for the living room before introducing smaller, more affordable speakers for other rooms like kitchens and bedrooms. The speakers would incorporate Bluetooth alongside Wi-Fi and NFC to make music playback as seamless as possible when entering rooms. The biggest speaker would cost around $750, according to Variety.
Beats was looking to build the technology for the speakers from scratch, but ran into problems and had to switch chipset manufacturers and delay the project multiple times. Because of these issues, Apple decided to kill the project. However, another source tells Variety that Beats and Apple management have simply decided to put the project on hiatus.
It's unclear if or when the project will be revisited, especially as Variety reports that the workforce at Beats is far smaller than it was pre-Apple acquisition, with one source saying the headphone company is 50% smaller than before. Additionally, Beats chief product officer T.J. Grewal and head of loudspeaker engineering David Titzer have left the company, according to their LinkedIn accounts. In July 2014, it was reported that Apple trimmed 200 employees from Beats in areas where Beats and Apple overlapped.
Apple has discontinued speaker projects in the past, most famously the iPod Hi-Fi in 2007. More recently, the Cupertino company has had to recall Beats Pill XL speakers due to a possible fire hazard, with Apple issuing customers a $325 refund rather than replacing the units.