Apple Music Pays Industry Standard Subscription Revenue Fees to Record Labels
Apple plans to charge between $9.99 and $14.99 per month for its upcoming on-demand Apple Music service, with 58 percent of its subscription revenues going to record labels. For every $9.99 Apple collects from subscribers in the United States, it will pay out $5.80 to labels. Additionally, Apple pays approximately 12 percent to publishers and/or songwriters, leaving the company with somewhere around 30 percent of the revenue from the Apple Music service.
The figures come from a leaked document shared by Digital Music News earlier this week. In its article, Digital Music News erroneously suggested Apple was paying less to music labels than other streaming music services like Spotify (after failing to take into account the publisher's fee), but as it turns out, the 70 percent that Apple pays out to rights holders is on par with the industry standard.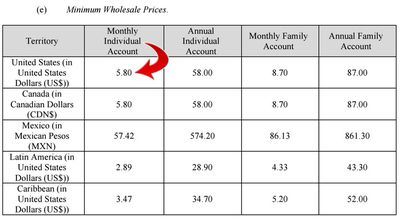 In some circumstances, the fees provided to rights holders can vary, such as when student accounts are involved or when the Apple Music service is provided through a third-party service like Google Play or bundled into a carrier package. During Apple's three-month free trial period that it provides to all subscribers, it is not required to pay any fees to rights holders.
Profit sharing and value concerns often cause a lot of tension between streaming music services, record labels, artists, and other rights holders. Many artists have complained about the low fees they receive from streaming music services, primarily those with free streaming tiers. Taylor Swift famously pulled all of her music from Spotify last year, claiming that by offering music for free, Spotify was undervaluing her work.
With Beats Music and Rhapsody you have to pay for a premium package in order to access my albums. And that places a perception of value on what I've created. On Spotify, they don't have any settings, or any kind of qualifications for who gets what music. I think that people should feel that there is a value to what musicians have created, and that's that.
Apple does not offer a free ad-supported tier for its on-demand streaming music service, choosing to supplement instead with an accompanying radio service. Apple has even allegedly urged record labels to cease offering deals to services that do offer free ad-supported listening tiers, like Spotify and YouTube.
Apple's focus on paid-only music is unsurprising, given the current state of the streaming music industry. Spotify recently announced 75 million users and 20 million paid subscribers, but Spotify continues to operate at a loss. With more than 800 million iTunes accounts with credit cards attached at its disposal, Apple Music could quickly become one of the most profitable streaming services, as long as Apple can draw in customers.
Apple Music launches on June 30 as part of iOS 8.4.