OS X El Capitan to Bring New Safari Extensions Gallery as Part of Unified $99 Developer Program
Apple earlier this week announced a new consolidated Apple Developer Program for iPhone, iPad, Mac, Apple Watch and Safari, combining the previously separate iOS, OS X and Safari Dev Programs into one for a single $99 annual fee. The change should place more emphasis on and increase the security of Safari extensions, but some developers have voiced their frustrations about the new fee.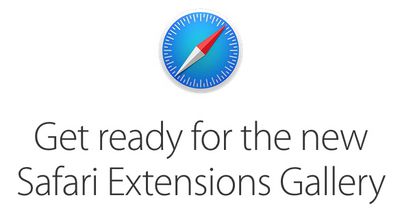 In particular, developers will now be required to pay $99 per year to distribute Safari extensions through the new Safari Extensions Gallery. Comparatively, the old standalone Safari Dev Program was free and did not charge developers a fee to distribute Safari extensions within or outside of the Safari Extensions Gallery. Chrome and other browsers also do not charge a fee to distribute extensions.
Reddit user honestbleeps shared the email Apple sent to Safari developers:
"Dear Developer,

As a creator of Safari Extensions, you've helped enrich the browsing experience for Safari users by taking advantage of development resources through the Safari Developer Program. This program is now part of the new Apple Developer Program, which combines everything you need to develop, distribute, and manage your apps on all Apple platforms.

Your existing Safari Developer Program membership will remain active until July 8, 2015 and your Safari extensions will continue to work for existing users.

You can continue building Safari extensions and bring your creativity to other Apple platforms by joining the Apple Developer Program. Join today to provide updates to your current extensions, build new extensions, and submit your extensions to the new Safari Extensions Gallery for OS X El Capitan. You can also learn how to extend your coding skills to create innovative new apps for Apple customers around the world."
Apple aims to improve the security of Safari on OS X El Capitan by implementing Secure Extension Distribution, meaning that all extensions in the Safari Extensions Gallery will now be hosted and signed by Apple. Safari extensions installed from the Safari Extensions Gallery will be updated automatically, while those distributed outside of the Gallery are ineligible for automatic updating.
Apple has created a page for developers to submit Safari extensions for OS X El Capitan in the fall, and developers can read both the Safari Extensions Review Guidelines and Safari Extensions Development Guide to prepare. Safari extensions available now will continue working for current users, and existing Safari Developer Program memberships will remain active until July 8, 2015.
Safari 9.0 will also feature content blocking extensions for both iOS and OS X, providing users with a fast and efficient way to block cookies, images, resources, pop-ups and other content. Xcode includes a Content Blocker App Extension template that contains code for developers to send their JSON files to Safari that specifies which content should be blocked. A full Safari 9.0 changelog is in the Safari Developer Library.