Apple today announced that it is merging all of its developer programs into a single developer program, letting developers pay one fee to access both Mac and iOS developer tools. Before today, Apple offered a Mac developer program and an iOS developer program, accessible with separate $100 fees.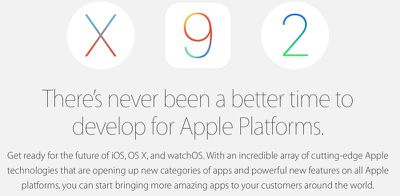 The new Apple Developer Program combines everything you need to develop, distribute, and manage your apps on all Apple platforms into one single program, making it easier than ever to bring your creativity to over a billion customers around the world. Get your apps ready for the App Store on iPhone, iPad, Mac, and Apple Watch, by enrolling in the Apple Developer Program today.
It now costs $99 to access all SDKs and betas of iOS 9, OS X, and the company's newest software platform, watchOS. Apple has created a support document to explain the changes and walk developers through the process of transitioning to the new membership program.
All individual and organization developer accounts have been upgraded to the new program and can access the tools for iOS and OS X. Membership expiration dates and Technical Support Incidents have not been changed. For those who had memberships to both former programs, the new single account has an extended expiration date that includes the sum of days that remained in each program.