Apple today announced Apple Music, a new all-in-one app and service for discovering and listening to music. Apple Music includes a streaming music service that delivers on-demand music for $9.99 per month, much like Apple's existing Beats Music service.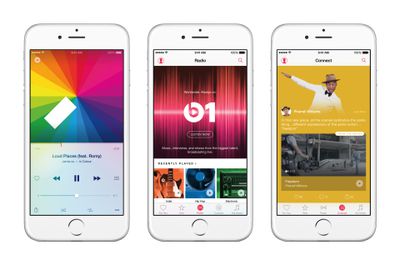 Many users have wondered whether Apple Music will allow for song downloads for offline listening, and the answer to that question is yes. Apple did not give details on offline listening during its keynote event or press release, but according to an Apple representative that spoke to Re/code, content from Apple Music can be added to a playlist for offline listening.
"As an Apple Music member you can add anything from the Apple Music library -- a song, an album or a video -- to your collection," Apple said in a statement to Re/code. "And that's just the warm-up act. From there you can create the perfect playlist from anything you've added. You can save it for offline listening and take it on the road."
Offline listening is also listed as a feature available on Apple's new Apple Music page, which details what you get with an Apple Music membership. Apple Music subscribers will also get unlimited skips when listening to Apple Music radio stations, the ability to play and save Connect content, and the ability to add Apple Music content to one's music library.
Apple Music will launch to the public on June 30, as part of iOS 8.4. It is priced at $9.99 per month for individuals and $14.99 per month for a family of up to 6.