Sony Music CEO Confirms 'Apple Music' Unveiling at WWDC
During an on-stage interview at the Midem Music Industry Festival in Cannes today, Sony Music CEO Doug Morris confirmed Apple will indeed be introducing its "Apple Music" streaming service at its Worldwide Developers Conference keynote tomorrow, according to VentureBeat. While numerous sources have indicated the service will be unveiled at WWDC, Morris' confirmation is notable as coming from a close friend of Apple's Jimmy Iovine and one of the parties involved in the negotiations for launching the service.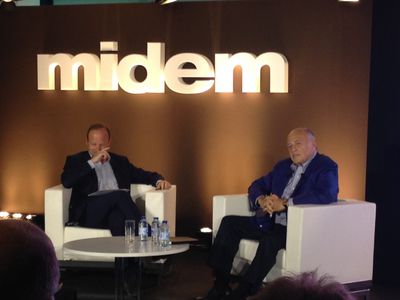 Sony Music CEO Doug Morris (right) on stage at Midem (Chris O'Brien/VentureBeat)
"It's happening tomorrow," Morris said during an interview at Midem in Cannes that primarily focused on his storied career in the music industry.

A highlight of that career was a 37-year partnership with iconic producer Jimmy Iovine, who now is running Apple's music services after the company paid $3 billion to acquire Beats. Underscoring Iovine's role in the music industry, Morris said he still talks to him twice every day by phone. Morris said the move by Apple to bring in Iovine was a brilliant one.
Morris didn't reveal any other details about Apple Music, which is expected to be priced at $10 per month with a generous three-month free trial period and be accompanied by a revamped iTunes Radio service, but he expressed his view that Apple's entry into the paid subscription streaming market will be a "tipping point" for moving the industry from downloads to streaming.
Update Apple's Chief of French content for Apple TV has shared a photo on Instagram apparently showing he has added Apple Music to his responsibilities.