Google's Free, Unlimited Google Photos Service Now Available on iOS and Web
At its I/O developer event this morning, Google announced a new Google Photos platform that's designed to compete with both photo sharing sites like Flickr and cloud services like iCloud Photo Library. Google Photos is cross platform and available on iOS, Android, and the web.
Both the iOS app and the web service are now live, letting those in Apple's ecosystem make full use of Google Photos. The service is free for high-quality photos and it lets users upload an unlimited number of photos (up to 16 megapixels) and videos (up to 1080p).
A hands-on overview of Google's new Photos service
Photos with resolutions that exceed 16-megapixels
will be downscaled
to 16MP, and videos with resolutions higher than 1080p will also be downscaled. Google offers an option to store photos and videos in their original quality, but only with the 15GB of free storage that comes with any Google account. Additional storage is priced at $1.99/month for 100GB or $9.99/month for 1TB.
16-megapixel downscaling is suitable for most camera phones and point-and-shoot cameras, but the free storage option may not be as appealing to DSLR users who need to store original-quality images. According to Google, photos uploaded with a 16-megapixel resolution or lower will look "essentially" the same when uploaded to the site using the free plan.
Google designed Photos around three central ideas: a "home" for all of your photos, deep organization, and easy sharing. On iOS, Google Photos is not unlike the default Photos app that Apple offers. It includes a main photos view that's organized by when a photo was taken, and it's possible to zoom in and out to adjust the view using pinch gestures.
You can organize your photos and videos into albums, but Google has also built in its own organizational tools. Google Photos will group images based on the person in the photo, an item in the photo (like a dog) or the place where it was taken. Google demonstrated the facial recognition features on stage at Google I/O, showing how it was able to recognize the same child at multiple ages, starting from birth.
In the iOS app, there are tools for quickly enhancing photos to improve color, lighting, and more, plus it's possible to create collages, animations, and movies using the app's tools.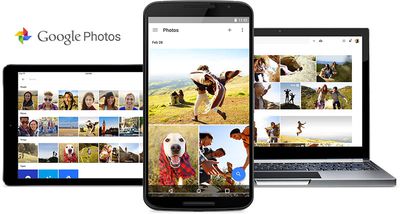 Google Photos has quick selection tools for grouping up multiple photos, and this feature works alongside the app's photo sharing tools. Users can create a link to any number of grouped photos, sharing all of them by simply sending the link. It's not necessary for those who view the photos to log into the Google Photos app, but doing so allows the shared photos to be downloaded to one's own library.
Sharing is also bolstered by a built-in Photos Assistant. This tool automatically makes videos, GIFs, and collages out of a series of photos, which can then be shared if so desired. Google Photos also includes tools to share photos to numerous social networks.
Google Photos for iOS can be downloaded from the App Store for free. [Direct Link]