Following this morning's iCloud and iTunes downtime, Apple's services appear to be experiencing another outage, this time affecting several of the company's online stores.
The App Store, iTunes Store, Mac App Store, iBooks Store, and Apple TV are non-functional for some users at the current time, with content inaccessible. MacRumors has received several complaints about App Store apps not downloading.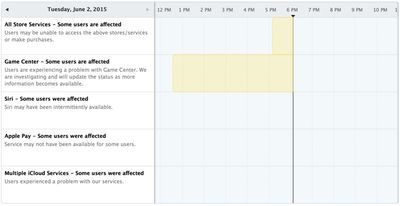 According to Apple's system status page, all of the above listed services are affected, along with iTunes Match, iTunes Radio, and Game Center. The page suggests the outage began just after 5 p.m. Pacific Time and it reads, "Users may be unable to access the above stores/services or make purchases."
Game Center has been unavailable for some users for several hours now, having first begun experiencing issues at around 12:30 p.m. Pacific Time.
It is not clear when the outage issues will be resolved, but this morning's iCloud problem was fixed within an hour.
Update 6:55 p.m. Pacific Time: After approximately an hour of downtime, Apple's services are now back up and running, aside from Game Center. Game Center continues to be unavailable for some users.