New 15-inch Retina MacBook Pro Lives Up to Apple's Claims, Reaches SSD Throughput Speeds of 2GB/s
Apple's new 15-inch Retina MacBook Pro, unveiled on Tuesday, didn't include a processor upgrade due to Broadwell delays, but it did get a Force Touch trackpad and one other major improvement -- new PCIe-based flash storage that Apple says is 2.5 times faster than the flash storage in previous-generation machines, with throughput up to 2GB/s.
In benchmark testing conducted by French site MacGeneration [Google Translate], the entry-level 2.2GHz 15-inch Retina MacBook Pro with 16GB RAM and 256GB of storage lived up to Apple's claims, demonstrating impressive read/write speeds that topped out at 2GB/s and 1.25GB/s, respectively, in QuickBench 4.0.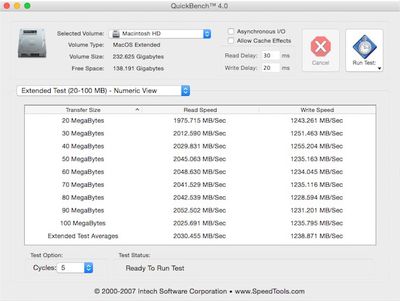 Those read/write speeds far exceed the read/write speeds achieved by the entry-level 13-inch MacBook Air, which also received faster flash storage that doubles the speeds available in previous-generation 13-inch MacBook Air machines. The 13-inch Retina MacBook Pro's performance is similar to the 13-inch MacBook Air.
At speeds that reach 2GB/s throughput, the 15-inch Retina MacBook Pro has the fastest storage of any of Apple's notebooks. It took 14 seconds to transfer an 8.76GB file to the machine, compared to 32 seconds for the slower Retina MacBook. With small files, read/write speeds exceed a gigabyte per second.


Like the 2015 13-inch Retina MacBook Pro and 13-inch MacBook Air, the revamped 15-inch Retina MacBook Pro uses a solid state drive manufactured by Samsung. As noted by MacGeneration, it does not use the faster NVM Express SSD protocol that the 13-inch model was updated to, suggesting future machines could see even greater performance improvements with a swap to the next-generation protocol and with continued leaps in SSD technology.
Apple's 15-inch Retina MacBook Pro is available from the online Apple Store at prices that start at $1,999. The notebooks continue to use Haswell processors, but should see performance boosts due to the faster solid state drives.