Former Apple Retail Chief Ron Johnson Discusses 'Enjoy' Launch, Apple, Angela Ahrendts and More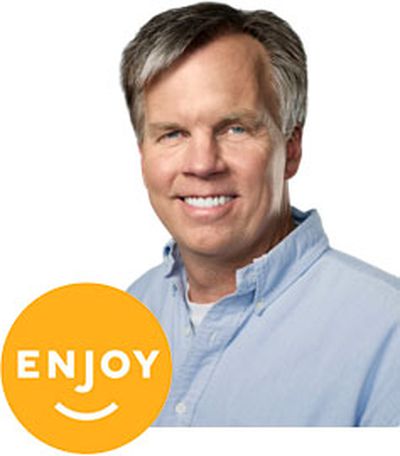 Ron Johnson, who served as Senior Vice President of Retail Operations at Apple between 2000 and 2011, today unveiled his new online retail startup called Enjoy Technology that will begin selling high-end consumer electronics, such as smartphones, tablets, laptops, speakers and drones. The Menlo Park, California company will sell about 60 products starting today.
Enjoy aims to differentiate itself from Amazon and other competitors by providing free personal in-home setup service for products, as reported by The Wall Street Journal. When you purchase a product, Enjoy will send a representative to your home to help set it up, with visits lasting approximately one hour. AT&T, GoPro, Microsoft, Samsung and Hewlett-Packard are among the early partners with the service.
Johnson was interviewed by CNBC today to discuss the Enjoy launch and a handful of other topics, including Apple and the company's current retail chief Angela Ahrendts, the future of physical retail and more. In particular, he offered praise for Ahrendts, who has led Apple's retail operations since May 2014, and noted that he owns an Apple Watch and thinks it's an "incredible product." He also said to "stay tuned" about the availability of Apple products through Enjoy in the future.
Kayla Tausche: It was bizarre to think about an Apple product launch without those lines around the corner. Stretching for miles and miles. I'm just wondering if you look at this new era for Apple products and Apple retail, and you think that there is a lot of change and that it's sort of doing away with the way you used to do product launches?

Johnson: I don't think that's true. I'm Angela's biggest fan. I knew her before she came to Apple. I had the chance to meet her in London. The teams love her at Apple. They love her leadership. She made it clear that the Apple launch was being launched in this way and future products might go back to something that Apple has done before. I wouldn't overread the launch as a change in direction. It's the right thing for this intensely personal products.

Courtney Reagan: You have 60 products on GoEnjoy.com right now from 11 companies. But Apple isn't one of them. Why not?

Johnson: I say stay tuned. We're not talking about it but I didn't want, our customer would love Apple products. You know there's no doubt about it. And we serve the iPhone through AT&T. You can go to AT&T's website and buy an iPhone and use enjoy. We'll be embedded in on AT&T's website on May 19th. We do help with all the Apple products. Stay tuned when they might be on our personal commerce site.
Enjoy launched in New York City and the San Francisco Bay Area on Wednesday.