MacRumors 2015 Blood Drive
MacRumors is pleased to announce the Sixth Annual MacRumors Blood Drive, throughout the month of May 2015. Our goal every year is to increase the number of life-saving donations in real-world communities by encouraging everyone in our online community to step forward. While most blood drives are specific to a geographic location or collection center, our blood drive is online and worldwide. Our past blood drives have collectively recorded donations of over 250 units of blood and platelets.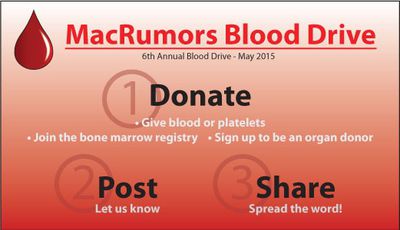 Apple often supports health, relief, and charity efforts, including facilitating cash donations after the recent earthquake in Nepal, but this drive is run by the staff and volunteers of MacRumors.
We ask that you:
1. Donate blood or platelets at any donation center or hospital near you. Join the bone marrow registry in your country. Sign up for the organ donor registry in your state, province, or country.
2. Post in the MacRumors 2015 Blood Drive! forum thread. Tell us about your donation or registration experience. We'd like to thank you.
3. Share the news and our message with other people you know, online and in person. Convince one other person to donate blood in the month of May. Help us thank the donors who post about their experiences.
For details see the MacRumors 2015 Blood Drive! thread and our traditional Honor Roll of recognized donors.

Recent donation by a MacRumors forum member
Why donate blood or platelets? Why join the bone marrow registry? Why join the organ donor registry?
- Donated blood and platelets save the lives of people recovering from accidents, undergoing surgery, or struck by illness. These are people in your own neighborhoods who need your help. Donated blood and platelets are needed every 2 seconds, not just when hurricanes, earthquakes, and other disasters occur. An hour of your time could save up to 3 lives.
- With a simple cheek swab you are volunteering to donate stem cells or bone marrow if you match someone dying from a disease like leukemia. There are many thousands of people each year searching for donors to save their lives. You might be the one and only person who can save a particular patient's life.
- Thousands of people die every year while waiting for organ transplants. Your donation of organs when your own life ends could save the lives of as many as 8 people.
The lives you save may belong to your friends, neighbors, relatives, or complete strangers. Someday you may receive the same generosity from others. There's no gift more precious than the gift of life.
Do this today
1. If you are eligible to donate blood: Schedule a blood or platelet donation, in May if possible. Register for the bone marrow registry. Register as an organ donor. Find the details in our knowledge base articles: Blood and Platelet Donation and Organ, Tissue, and Bone Marrow Donation. We've added over 20 countries to these articles.
2. If you aren't eligible to donate blood: Check if you can still register for the bone marrow registry and register as an organ donor. You're welcome to discuss donor eligibility in our Blood donor eligibility forum thread.
3. Help our drive by thanking donors and convincing a friend or relative to donate blood.