Ford Working With Apple on CarPlay, But Won't Give Up Control of the Dashboard
Ford has promised to bring CarPlay to its vehicles and is listed as one of Apple's CarPlay partners, but Ford executives say the company will also focus on compatibility with Android and its own Ford SYNC in-car infotainment system to give consumers as much choice as possible. In an interview with Re/code, Ford CTO Raj Nair explained that the company doesn't want people making car choices based on their smartphones.
CTO Raj Nair said part of the reason behind that is ensuring that car buyers have choice. "We want to make sure you are not pushed into a decision on a $40,000 car based on your $200 smartphone," Nair said.

Ford, like the other car makers, also sees its infotainment system, known as SYNC, as a key selling point. "The data shows SYNC has been a significant draw in the showroom," Nair said.
Ford's focus is on SYNC, but the company says that it is planning to support Android Auto and CarPlay and will look to integrate SYNC more closely with both systems. According to Nair, a customer who wants to use Google Maps but listen to Sirius radio using SYNC will be able to do so.
Despite not wanting to hand over control of its in-car infotainment systems to Apple and Google, Ford is eager to embrace new technology. At the meeting with Re/code, Nair was wearing an Apple Watch sporting one of the apps that the Ford team built in a week. A MyFord Mobile research app that links the PHEV Fusion Energi, C-MAX Energi, and Focus BEV cars to the Apple Watch was shown off on Twitter earlier today.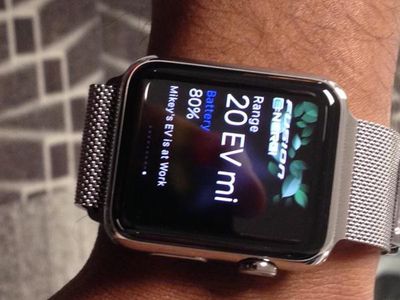 Image via Said Deep, Head of Ford North America Product Communications
Ford's upcoming SYNC 3 system is set to debut this summer with support for both CarPlay and Android Auto. Following the launch of the new system, Ford should be releasing vehicles with CarPlay support by the end of 2015.