Apple may be looking to further beef up its search platform "Spotlight" for iOS and OS X with deeper integration of Tweets and Twitter accounts, according to Twitter CEO Dick Costolo (via Macworld). Spotlight already provides some Twitter search options, letting users place an "@" symbol ahead of a name to search for an account or a "#" to search for popular hashtags on the service. Users can also include "twitter" in their Spotlight search terms to pull up relevant accounts.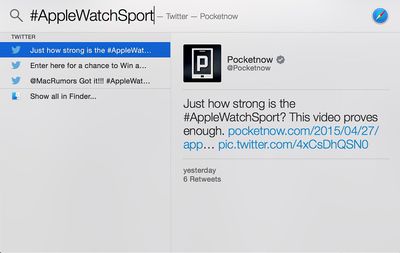 Spotlight is Apple's baked-in search platform, which allows users to quickly look up documents, photos, and other files stored on their computers. Recent updates to the platform have introduced web-based results as well, including information pulled from Wikipedia, search results from Bing, iTunes content, and basic dictionary functionality.
Costolo hinted at the possibility of even more in-depth Twitter integration with Spotlight during the company's quarterly earnings call on Tuesday, noting Twitter is "working with Apple to surface great Twitter content and accounts" in Spotlight. As Macworld points out, the Twitter CEO didn't provide any further information beyond suggesting the integration will help "make it easier and quicker to find great things on Twitter."
While perhaps referring only to the existing integration and far from a confirmation on new functionality coming to Spotlight's Twitter features, it appears the two companies have at least been discussing where the partnership may be heading in the future. Twitter and Apple have been known to work together closely in the past, with system wide integration for the social network premiering on iOS 5 back in 2011 and partial OS X integration also available.