Apple CEO Tim Cook: We're 'Working Hard' to Remedy Apple Watch Supply/Demand Imbalance
During today's earnings call covering the second fiscal quarter of 2015, Apple CEO Tim Cook did not share information on Apple Watch sales, but there were several analyst questions on the new wearable, leading Cook to shed a bit of light on Apple's efforts to fulfill orders.
According to Cook, demand for the Apple Watch is much greater than supply, but the company is "working hard to remedy that." He said that Apple made a lot of progress on that over the past week, and was able to deliver the Apple Watch to more customers than Apple had originally anticipated.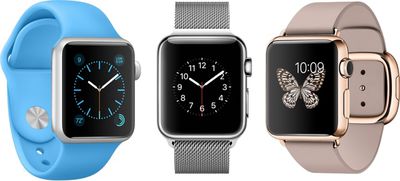 "We're going to keep doing that," Cook said, noting that some customers would begin receiving updated info on improved shipping estimates today. Apple is "generally happy" with its efforts to boost supply and get the Apple Watch out to customers as soon as possible, and Apple Watch availability may expand to other countries in late June. "It is a new product for us. With any new product, you wind up taking some time to fully ramp."
I think we're in a good position and sometime in late June we currently anticipate being in a position where we could begin to sell the Apple Watch in additional countries. That's our current plan.
Cook said that it was difficult to gauge demand without a product in stores, and that customer response has been "overwhelmingly positive." Apple is also "far ahead" of where it expected to be from an application point of view. According to Cook, the iPhone had approximately 500 apps available at launch, while the iPad had 1,000. Apple hoped to meet or beat the iPad's 1,000 available apps at launch internally, but far exceeded that with 3,500 available apps. "We couldn't be happier about how things are going from that point of view."
Cook noted that Apple is "learning quickly about customer preferences between the different configurations" and that the company will be making adjustments to get in line with demand.