Teardown of 38mm Apple Watch Sport Reveals 205 mAh Battery, Taptic Engine
iFixit is currently in the process of tearing down a 38mm Apple Watch Sport after the device launched in Australia today. While it is still early in the teardown process, the team has found that disconnecting the display from the body can be a little difficult, similar to the troublesome Touch ID cable on the iPhone 5s.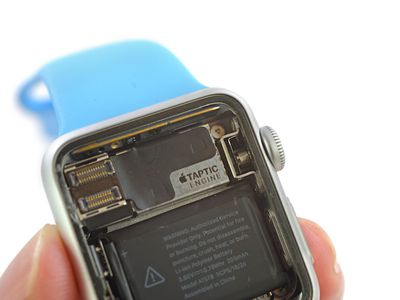 Behind the display, two of the most significant features of the Apple Watch are easily viewable in the Taptic Engine and Digital Crown. Also inside is the tiny 3.8V 205 mAh battery, which iFixit notes is "lightly adhered" and easy to remove. Apple has said the 42mm Apple Watch will generally have slightly longer battery life than the 38mm model, so we expect the larger Apple Watch will have a higher-capacity battery filling up the extra space inside the casing.


iFixit's teardown is still in progress and this post will be updated as additional discoveries are made. Of particular interest is the S1 chip that serves as the brains of the Apple Watch, but it may take some time to examine that part as Apple notes it is sealed in resin, aiding the water resistance of the Apple Watch.
Update 9:12 PM: The iFixit team notes that, on their way to the S1 chip, they've encountered the "tiniest tri-wing screws" they've ever seen, requiring them to modify their tools to proceed.
Update 9:41 PM: Due to the limited space inside the Apple Watch, iFixit has found that Apple has creatively wrapped the microphone ribbon cable between the inner and outer layers of the case.