Apple today released an iMac Graphics Update for users of the more recent iMacs, fixing an issue that caused the computers to freeze up after viewing very large JPEG Files.
Affected iMacs include the late 2014 27-inch Retina iMac, the late 2013 21.5-inch iMac, and the late 2013 27-inch iMac.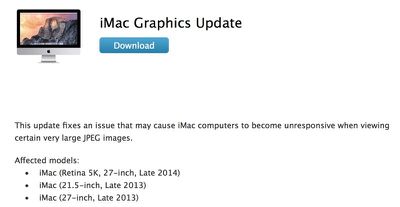 Apple has also released an accompanying support document that describes the issue in more detail, suggesting the problem occurs when opening a large JPEG image in Finder or Preview on OS X Yosemite 10.10.3.
If you're using using OS X Yosemite v10.10.3 and one of the following iMac models, viewing certain very large JPEG (.jpg) images in the Finder or Preview can cause your iMac to briefly stop responding, display a black screen, and restart to a message that your computer restarted because of a problem.
People who own one of these three iMacs are encouraged to update their machines right away to fix the bug.