Apple Watch 'Guided Tours' Site Updated With Videos on Apple Pay, Activity and Workout
Apple has launched a third update to the "Guided Tours" section on its dedicated Apple Watch website, showcasing new walkthrough videos on using Apple Pay and the Workout and Activity apps on the device. Apple first debuted its Guided Tour website on April 3 and has been gradually adding instructional videos to help people discover all of the things that the Apple Watch is able to do.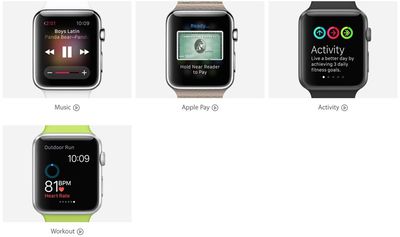 The Apple Pay video walks through how Apple Pay is used on the Apple Watch at a location that accepts contactless payments. Double clicking the side button and holding a wrist to the payment terminal initiates a payment, which is confirmed with a vibration and a beep. The video also covers how to add a credit card to an iPhone using Passbook.
The Activity video explores the "Activity" app on the Apple Watch, which is the built-in health and fitness app that monitors activity and encourages Apple Watch wearers to move more. It walks through the default fitness goals (exercising, standing more, and meeting calorie burning goals), the steps to set up the app, and the different ways to display the movement goal rings. It also includes a look at the achievements available in the app for reaching fitness goals.
Apple's Workout video covers the device's Workout app that can be run whenever an Apple Watch wearer is exercising. The app has several different activities, like running, climbing, cycling, and more, and lets users set workout goals to achieve right on their wrists. It also includes details on calibrating the Apple Watch to work without the iPhone's GPS.
With the addition of the Apple Pay, Workout, and Activity videos to the Guided Tours page, all of the "Coming Soon" videos are now available to prospective Apple Watch buyers. The completion of the page comes just a few days ahead of the Apple Watch's official launch on April 24. Apple Watch orders have already begun shipping out to customers, and the first early pre-orderers will get their devices on Friday.