Apple to Offer Band Only Exchanges for Apple Watch
Apple is planning to offer customers an opportunity to exchange only their Apple Watch bands rather than an entire Apple Watch if a band is the wrong size or the wrong style. Retail employees have been instructed to suggest a band swap as an alternative to a whole watch return if an Apple Watch is being returned based on size, color, or band style.
A band swap, according to an internal employee training document, can potentially save the customer time as it eliminates the need to set up and sync an entirely new watch. Band swaps are available for the Apple Watch Sport and the stainless steel Apple Watch, but will not be available for the more expensive gold Apple Watch Edition.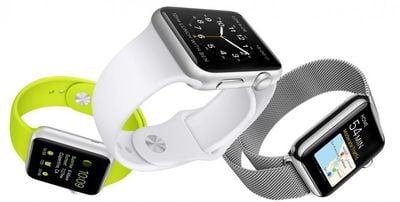 There are several rules for band swaps:
- The new band must be within the same collection as the watch and must be an available band option for that watch face.

- The band swap is within 14 day return period.

- The watch must have been purchased at the Apple Online Store, Kiosk, or Apple Store App.

- You are not using band swaps as a way to configure a sellable product for a customer.
Band swaps won't be done entirely in store. After an employee confirms that a customer is within their 14-day return window and wants a new band, the swap must be initiated through the Online Store call center. Customer support representatives will create a new band order, ship it out to the customer, and provide instructions on how to mail in an old band for a refund.
One interesting tidbit in the document suggests band swaps can't be done for watches purchased at other retailers for warranty reasons, such as those bought from select boutiques around the world where the Apple Watch will be sold, including Colette in Paris, Dover Street Market in London, The Corner in Berlin, and more.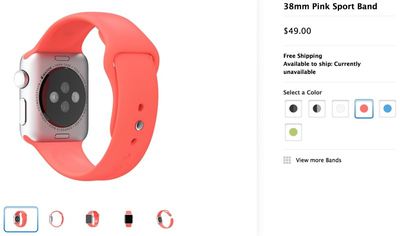 If a customer wants to make a full watch return rather than just a band return, the band must be provided. Apple will not provide partial refunds -- bands that shipped with a watch cannot be returned for a refund and Apple Watches cannot be returned without their bands.
The document also outlines the full return guidelines for the Apple Watch Sport, the Apple Watch, and the gold Apple Watch Edition, with the latter requiring a "visual, mechanical, and micro-inspection" by a trained genius accompanied by a manager.
The Apple Watch is set to launch this Friday, with the first customers receiving their pre-orders at that time. Supplies are constrained, but Apple has been making efforts to get shipments out as fast as possible. Many Apple Watch bands are also in short supply with multi-week shipping estimates, so customers who do wish to exchange a band might have to wait awhile for their desired band to be available.