Possible Third-Party 'iPad Pro' Case Shown in New Photo
Ahead of any major product release, we often see part leaks and case molds, which give us hints on the sizing, features, and design of the forthcoming product, and the "iPad Pro" is no exception. We've previously seen what's said to be an iPad Pro dummy model for Apple's upcoming large-screened tablet, and today, French site Nowhereelse.fr [Google Translate] has shared an image of a case that may be designed for the device.
According to the site, the image of the case originated from a reliable source that the site has been in contact with "for many years." Though the case in the photo is not depicted next to an object to provide a size reference, it is clearly quite large and could fit a tablet in the range of 12.2 to 12.9 inches.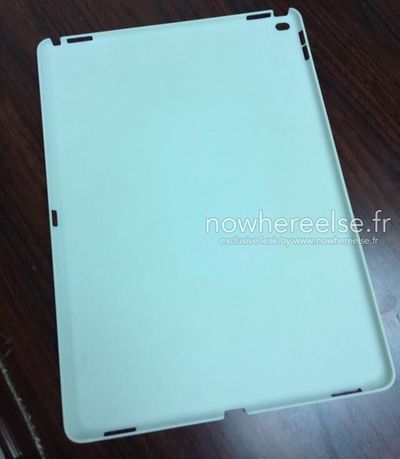 The case appears to have two speaker cutouts at both the top and bottom, which would accommodate the stereo speakers that have been rumored for the device. There are also cutouts for a headphone jack at the top left of the case, volume buttons at the right, a camera cutout at the back, a Lightning port cutout at the bottom, and a power button cutout on the top right, all of which is in line with previous iPad Air and iPad mini designs.
The one unknown is a cutout on the left side of the case, which could possibly be for a SIM tray, suggesting that this is a case for a Cellular iPad Pro. Previous design drawings have not suggested that there's another port in that particular location.
Because case makers often create molds based on leaked design specs and information that may not be accurate in an effort to be the first to come out with accessories for a new product, some of the design elements could be slightly off. There have certainly been a few misses over the years when it comes to case designs, mainly when rumors of a tapered iPhone were circulating, but for the most part, case leaks have been highly accurate.
The "iPad Pro," as it has been named by the media, is rumored to include a 12.2 to 12.9 inch screen, an A8X or A9 processor, and a design that is similar in style to the iPad Air or iPad mini, with a thin body and a high-resolution screen. Recent rumors have suggested that it could be the first Apple tablet to ship with an included stylus due to its size.
A launch date for Apple's larger iPad remains unclear, but rumors have suggested that it could be released in the second or third quarter of the year.