Apple Watch Orders Will Remain Exclusively Online Through May, Deliveries Begin April 24
Apple retail chief Angela Ahrendts issued an internal memo to retail employees on Thursday that helps eliminate some of the confusion surrounding the launch of the wrist-worn device. The memo, a roughly translated copy of which was obtained by iGen.fr, states that Apple Watch orders will continue to be taken exclusively online through May and that deliveries will begin April 24 as planned.
"The feedback from customers is overwhelmingly positive. They are excited about Apple Watch, and your teams are creating fantastic experiences for them. Customers who pre-ordered will start receiving deliveries next Friday as planned, and I know you will do a great job helping set them up.

Many of you have been asking if we will have the Apple Watch available in stores on April 24 for walk-in purchases. As we announced last week, due to high global interest combined with our initial supply, we are only taking orders online right now. I'll have more updates as we get closer to in-store availability, purpose we expect this to continue through the month of May."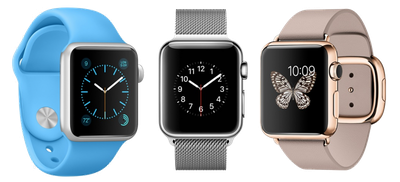 With no walk-in purchases of the Apple Watch available at Apple Stores until at least June, and product reservations for in-store pickup not available yet, it would appear that the Apple Watch's upcoming April 24 launch day could be quieter than usual. The long lines that typically accompany an iPhone launch, for example, could be a lot shorter than usual at many Apple retail stores around the world.
Fortunately, disappointed customers can rest assured that Apple's iconic lineups will not be going away forever. Ahrendts ensured in her memo to retail employees that not all Apple products will launch the same way as the Apple Watch, adding that both Apple and its customers love the long lines and that there will be many more of them to come in the future.
"I know this is a different experience for our customers, and has changed for you as well. Are we going to launch every product this way from now on? No. We all love those blockbuster Apple product launch days and there will be many more to come. They're the times where you, our teams, shine. And our customers love them as well!"
Likely to reflect that many customers will not be receiving their pre-orders by April 24, and that in-store availability on launch day, if any, will be very limited, Apple changed the tagline on its website on late Wednesday to read "the Watch is coming" instead of "available 4.24.15" as it previously showed. Apple Watch pre-orders began on April 10 at 12:01 AM Pacific and sold out in less than six hours.